Morocco is a land of craftsmanship, artistic work and traditional know-how in 
apparel
, 
carpet making
, 
recipes
 and 
spices
. Today, let's look at another symbolic example of Moroccan handicraft. It is called Babouche, which is a typical Moroccan leatherwork in the form of traditional slippers that have been part of 
Moroccan culture
 since antiquity.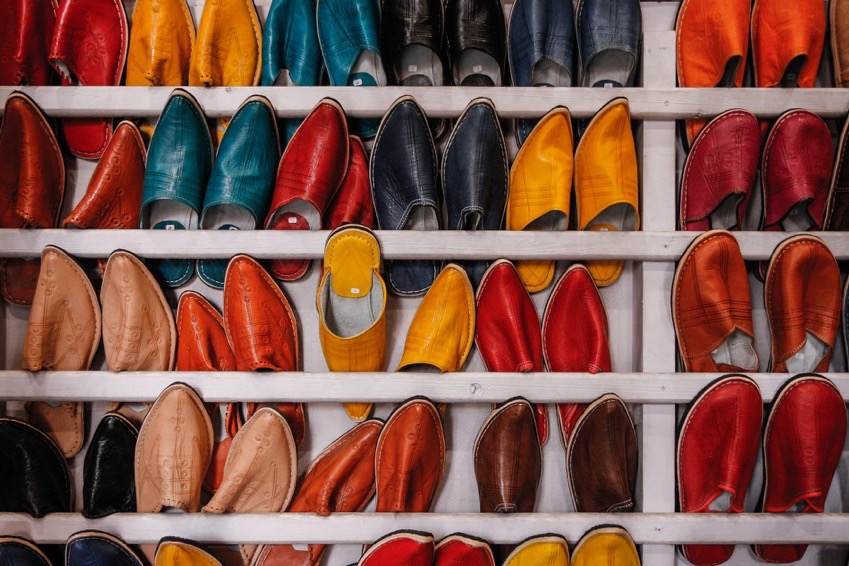 The manufacture of babouches is a tradition which is passed on from father to son and which is preserved in the Moroccan culture since the 14th century. The babouches are leather slippers that are entirely handmade by Moroccan craftsmen with great attention to detail and sewing work. These artisans are called "Mâalem" in Moroccan Arabic and they have inherited this art in the family from their elders and ancestors who passed on this art of leatherwork to them.   
The origin of this art of leather workmanship is based in Fez. Fez is the city of the
tanneries
that supply leather to the rest of the country for the manufacture of babouche. Babouches have been part of Moroccan culture for a long time and this leather art has attracted foreigners ever since its origins. Europeans who visited Morocco at the beginning of the 14th century were captivated by the intricate work of this leather making and called this art form  "Maroquinerie". 
Babouches can be worn on all occasions. Whether it's a 
wedding
, 
a festival
, a day of relaxation or simply inside your home, a pair of babouches goes everywhere. The term babouche has its roots in French terminology which comes from the Arabic word "Babush", meaning a slipper. The Sultan of Morocco from 1672 to 1727, Sultan Alaoui Moulay Ismail, promulgated a law making the wearing of the babouche compulsory to rebel against the Western Christian habit of wearing black shoes.   
>>> What to Pack for Morocco?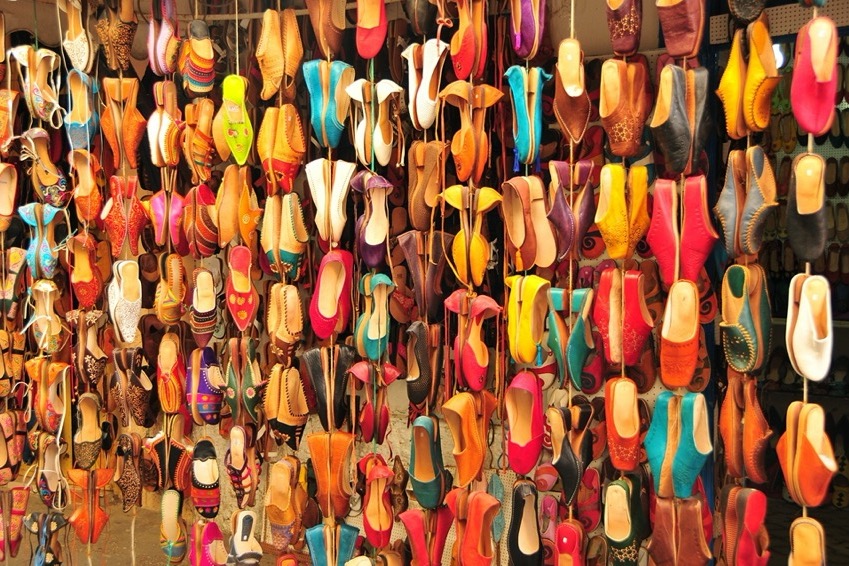 Being a traditional knowledge that has been present in culture for centuries, the preservation of this leatherwork of art has been the subject of great efforts that also include the safeguarding of its traditional craftsmen who are the holders of this knowledge. Currently, these traditional leather slippers are marketed internationally, allowing the various leather workers to spread their knowledge around the world and giving people all over the world the opportunity to wear these traditional slippers. 

The traditional slippers have evolved in their designs over time, needless to say. Today, designers and fashion professionals have used their innovation and creativity to improve these traditional shoes. Babouches are now designed and manufactured in different colours and variations of type and style. Contemporary babouches are more comfortable and elegant owing to the high-quality, butter-soft, eco-friendly leather from Fez. Babouches have also paved the way for haute couture with designers who showcase this age-old craft in ramps and fashion shows.  

Also, at present, in order to make this craft more egalitarian in terms of gender, several cooperatives and NGOs have also entered the scene. These cooperatives have collaborated with companies that would use this traditional craft to market traditional leather slippers, which would enable the artisans to earn a living. The development of cooperatives has been particularly beneficial for women in Morocco to enable them to gain a source of self-sufficiency and a source of income. Traditionally, this craft was only practised by men in society, but with increased awareness and the growth of businesses run entirely by Moroccan women, many rural women are now able to participate in this traditional knowledge and its sale.   
So, next time you are in Morocco, don't forget to get your hands in one of these babouches for yourself also, to bring it back as a souvenir to your loved ones. You will find these beautiful leather babouches in all the markets of Morocco called souks and do not forget to bargain for them! 
>>> A must in Marrakech: stroll in the heart of the souks of the Medina