At Villanovo, the confinement brings out the chef in us and we never cooked as much as we did at this time. What could be better than enjoying delicious, colourful food and invading your kitchen with a spicy aroma. So while waiting to reach
Morocco
to (re)discover its unique
cultural heritage
and succulent gastronomy, follow us to make a traditional Moroccan tagine step by step! Seems like a guaranteed trip!   
>>> Our guide to Moroccan gastronomy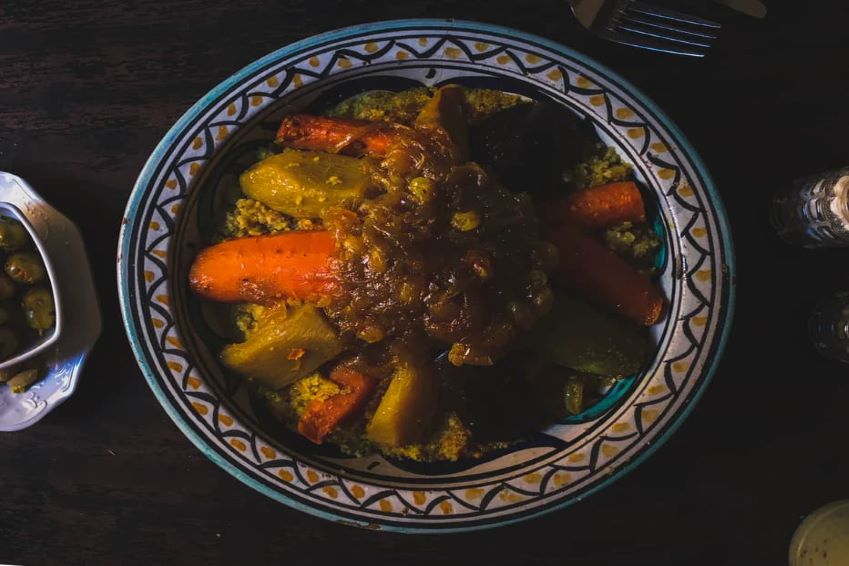 Chicken tajine with olives and candied lemons
Ingredients for 6 persons :
A good farm chicken of about 1.5 kg or 2 small chickens 
3 cloves of garlic 
2 onions 
2 candied lemons 
1 pinch of saffron 
2 pinches of turmeric 
2 pinches of ginger 
300g of candied olives (green or violet)
2 tablespoons chopped coriander
2 tablespoons chopped parsley 
3 tablespoons of olive oil 
salt and pepper 
 
Preparation:
 
Peel the garlic cloves and crush them, then peel and chop the onion.
Rinse the lemons in cold water and cut them into small pieces.
Rinse and let the olives drain.
 
Cook the onions in a casserole on low heat.
Cut the chicken into pieces and add it to the onions. 
Add the spices (saffron, turmeric and ginger).
Brown in the casserole for 5 minutes, turning regularly.
Add the chopped herbs and garlic.
 
Pour about 40cl of water to bring everything to a boil. 
Lower the heat and simmer for 45 minutes, keeping an eye on the heat. 
 
Remove the chicken and add the lemons and olives. 
Cook for about 15 minutes 
Add the chicken again and let it warm up.
 
You just have to serve hot with vegetables, potatoes or French fries as a side dish of your choice.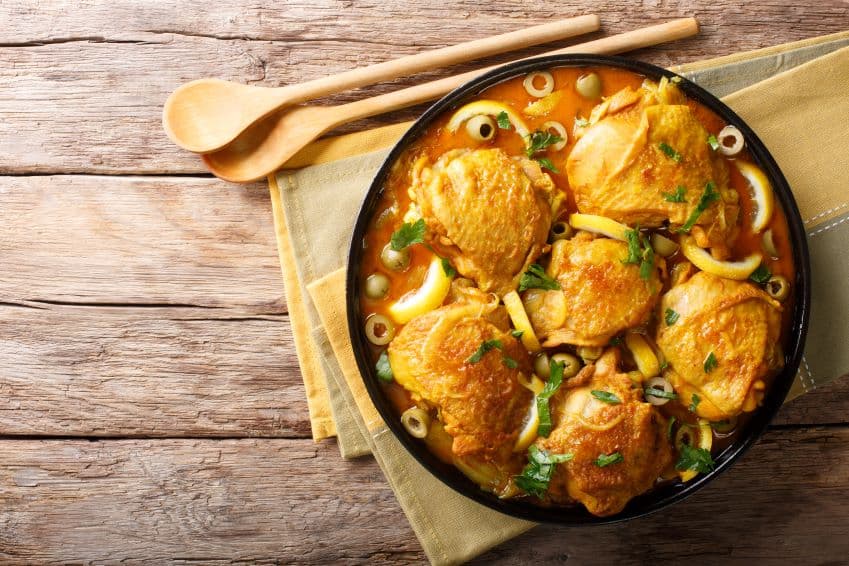 Vegetarian version of tajine
Ingredients: 
2 carrots in pieces (you can vary the vegetables according to the season or your desires)
2 turnips, diced 
2 diced potatoes 
1 crushed tomato 
250ml shelled peas 
15cl of water 
Salt and pepper 
2 onions, chopped
One crushed clove of garlic
2 tablespoons chopped parsley 
Half a teaspoon of ginger 
Half a teaspoon of turmeric 
2 tablespoons of olive oil
Preparation: 
Heat the olive oil, onion, garlic and carrots as well as the turnips and potatoes in a casserole dish. 
Season and mix everything before adding the water, which you will cover to bring to a boil. 
Once everything is boiling, add the peas and tomato, cover and cook over low heat. Add the parsley at the end.
Present your dish in a tajine and decorate with parsley leaves according to your preference. 
>>> Discover the secrets of mint tea to complete your meal.