Marrakech
is nicknamed the "pearl of the south" and not for nothing! The Red City is a popular destination which attracts millions of travellers every year in search of a change of scenery and discovery. Fascinating architecture,
charming tropical gardens
, breathtaking natural landscapes,
exquisite cuisine
with exquisite colours and scents and a welcoming people, are all elements that captivate and allow Marrakech to be one of the most attractive destinations. Why not
stay in a riad
while you are in Marrakech? These architectural treasures, once inhabited by noble families, are true oases of tranquility sheltered from the frenzy of the bustling alleys of the
Medina
of Marrakech.
Here are seven superb riads to live an unforgettable holiday in the heart of Marrakech: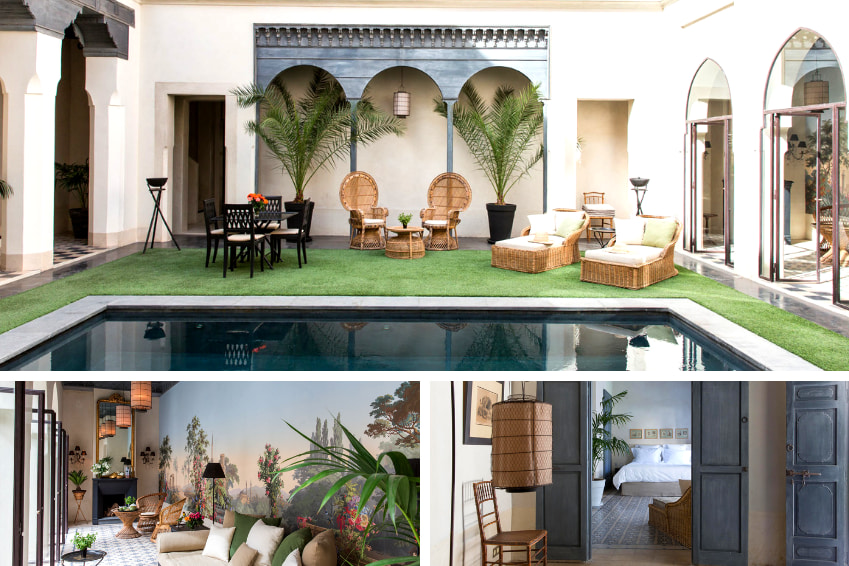 Riad Derb Sraghna
Riad Derb Sraghna is a real treasure nestled in the heart of Marrakech in Dar El Bacha. Enjoy a haven of tranquility only a few minutes away from the famous Jemaa El Fna Square. This luxurious riad has an exquisite interior decoration and furniture with a unique charm that combines traditional, modern and a strong colonial style influence. A very pleasant and warm atmosphere! The property is equipped with 10 spacious and comfortable bedrooms with adjoining bathrooms, beautiful and bright living rooms, large terraces and a superb heated outdoor swimming pool. Enjoy special moments in a magical setting, in the open lounge sipping your tea, by the pool to unwind or on one of the many terraces for an aperitif with friends.
➤ Riad Derb Sraghna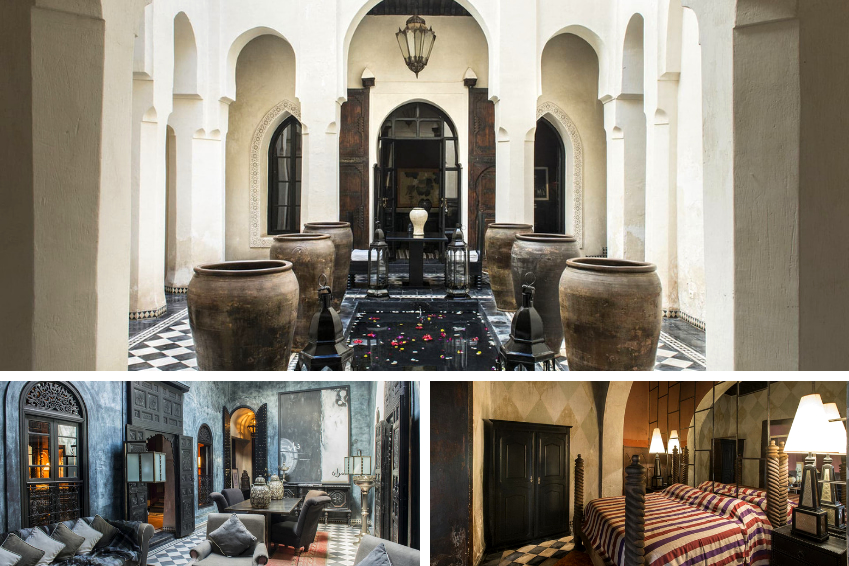 Dar Darma
Located in the old quarter of Moqf in the centre of the Medina, Dar Darma is an architectural masterpiece of Marrakchi heritage dating back to the 18th century. This former palace is located, only a few steps from Jemaa El Fna Square, the
Marrakech Museum
or the Ben Youssef medersa. Recently renovated, this elegant riad will offer you a very high level of comfort and
absolute privacy
for a stay combining relaxation and discovery in the red city. The huge residence of 6 suites with bathroom has multiple facilities to make your stay as exceptional as possible. Large lounges, patios and terraces, a hammam, a private swimming pool, all decorated with elegant and refined furniture. In addition, domestic staff are at your service 24/7. A charming environment where you will be able to relax with
family
or friends and forget all the worries of everyday life.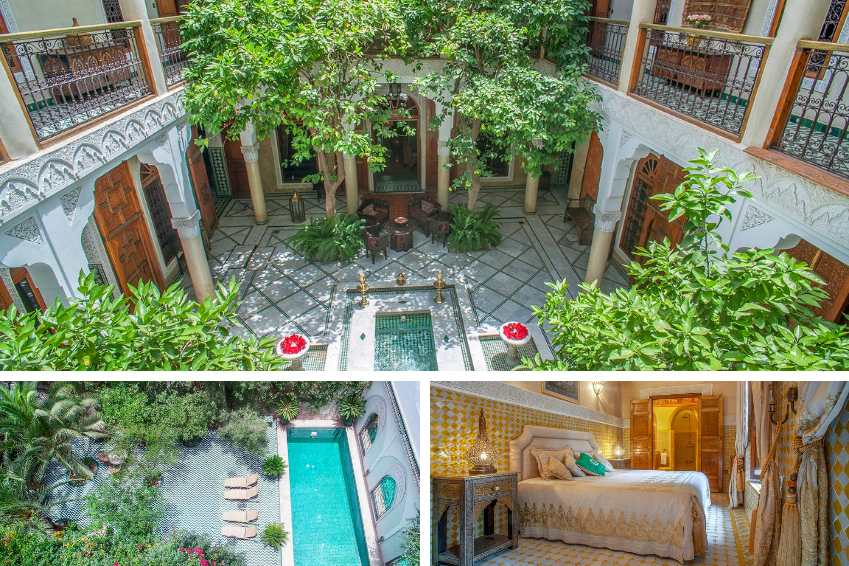 Riad Laurence Olivier
Riad Laurence Olivier is located near Bab Ghemat, a few minutes by foot from many tourist attractions such as Jemaa El Fna Square and five minutes by car from the Royal Palm Golf Club. The exteriors are just as fascinating as the interiors, combining traditional architecture, lush vegetation and absolute comfort. Marble, precious woods, stucco and fabrics create a wonderful sight. Equipped with five bedrooms with bathrooms and a sumptuous suite, Riad Laurence Olivier is ideal for a stay with your
children
or friends. A private swimming pool, a hammam and a massage room are also at your disposal so that you can unwind fully during your stay in the beautiful city of Marrakech.
➤ Riad Laurence Olivier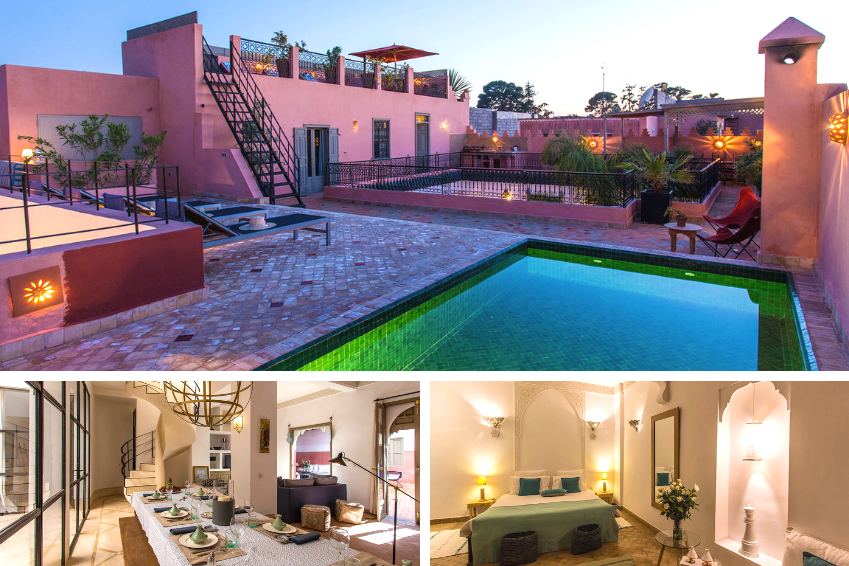 Riad Darmina
Newly restored in 2016, Riad Darmina will captivate your hearts with its traditional and spellbinding charm. This 7-bedroom riad is ideally located in the Sidi Mimoune district between the Royal Palace and the Jardins de la Mamounia, and near Jemaa El Fna Square. Organised into 2 patios, the property has superbly comfortable and welcoming interior spaces. The exterior is also a highlight, between the open living room, the large ochre terrace and the beautiful private swimming pool, contrasting with its azure colours. Relax on one of the deckchairs by the pool and let yourself be soothed by the gentle Moroccan sun. A relaxing holiday guaranteed!
➤ Riad Darmina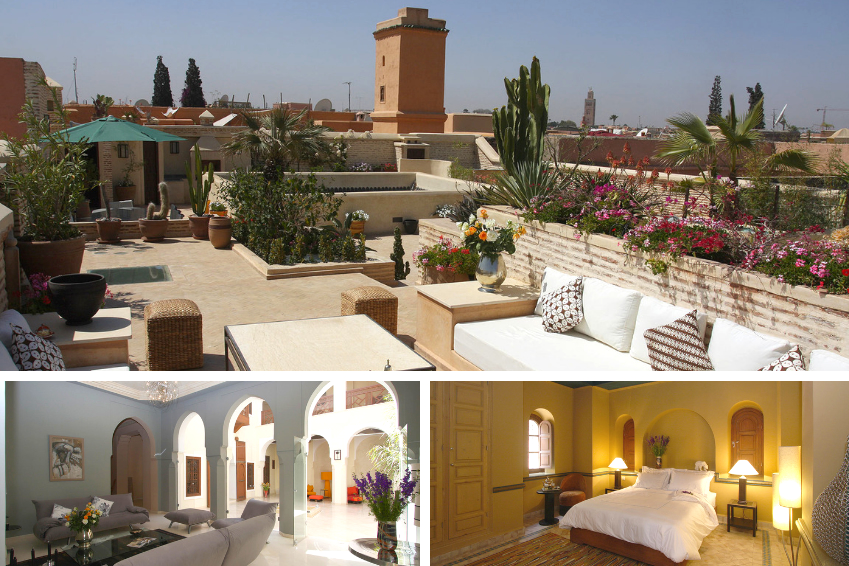 Riad Hizad
Another treasure hidden in the heart of the old streets of the Medina, is Riad Darmina. This contemporary and traditional architectural masterpiece is located near the historic heart of Marrakech and offers a fabulous view of the Koutoubia and the snow-covered mountains of the Atlas from its terrace. The central element of this luxurious riad is its white marble patio with an adjoining garden. Riad Darmina is equipped with 6 superb suites with adjoining bathrooms, each with a different personality and colours, as well as large comfortable and warm living rooms. You can also enjoy incredible outdoor spaces including a terrace and solarium, a beautiful heated swimming pool in winter, and a Berber tent hidden among exotic plants for a total immersion into Moroccan culture. To offer you maximum comfort, the riad Darmina also has a hammam and a massage room, as well as house staff. A stay that promises to be unforgettable!
➤ Riad Hizad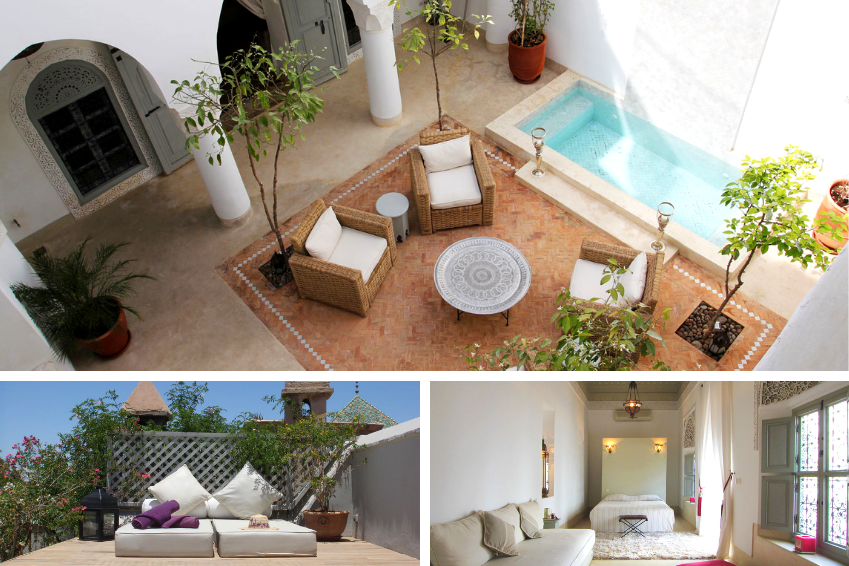 Riad Idoine
Located in the northern part of the Medina of Marrakech, in the district of Sidi Ben Slimane, Riad Idoine will captivate your heart. This magnificent traditional riad can accommodate up to 12 people in an intimate and warm environment. The main element of this elegant riad is its charming white immaculate patio with its traditional style, decorated with a small alcove lounge, called bhou. Enjoy large living rooms that combine the comfort of the modern with the charm of the old. The first floor consists of 4 bedrooms, all with their own bathroom and a superb suite. A sumptuous terrace offers a panoramic view of Marrakech. Also enjoy a swimming pool, a hammam and treatments (on request) for a totally rejuvenating stay in the mysterious ochre city.
➤ Riad Idoine
Riad A
In the heart of the Medina of Marrakech, in the historic district of the Imperial Kasbah, Riad A is a true architectural wonder. Located near the main tourist attractions such as the Saadian Tombs, the Bahia Palace and the famous Jemaa El Fna Square, this luxurious 12-room riad offers absolute privacy in the heart of the red city's hectic atmosphere. Large living rooms, a sublime central patio bathed in light, a heated swimming pool and a huge private spa that includes massage rooms, hammams,
Jacuzzis
and cold pools, everything is at hand for an exceptional holiday with family or friends in Marrakech. In addition, you will also have access to house staff who will take care of you and cater to your needs. Don't worry about your daily tasks anymore and spend the most beautiful holidays in Marrakech!
➤ Riad A