With a fascinating historical past and a spectacular and diverse architecture, Marrakech has become a popular destination among history and art enthusiasts. 
It is a city with a rich cultural heritage and therefore has numerous museums to discover. 
Here is our selection of the best museums in Marrakech, where you will be able to explore and deepen your knowledge of local culture. 
>>> Discover our riads in the Medina
Tiskiwin Museum
The Tiskiwin Museum is a must-see in Marrakech. It belongs to Bert Flint, a Dutch anthropologist and collector of North African Art, and features art from the Sahara, Morocco, Mali and other nearby countries. It is made up of distinct rooms which are meant to represent the different communities and trading posts.
Visiting this museum is a great chance to get an in-depth view of the relationship between Morocco and the Sahara, and explore their trading past. 
Moreover, you will witness a strong emphasis on Berber life and observe different creations which include rugs, clothing, homewares, artworks, statues, jewellery, and basketwork.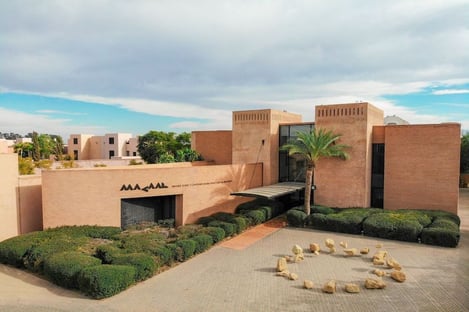 Museum of African Contemporary Art Al Maaden - MACAAL
One of the most colourful and impressive museums in Marrakech, the MACAAL was created by the Fondation Alliance to promote African creativity, and shows continuous support to some of the most talented artists in Moroccoand its neighbouring countries.
The forms of art which are displayed include mainly digital art, paintings, sculptures and videos, making it an ideal museum for families, as children can interact with the different artworks.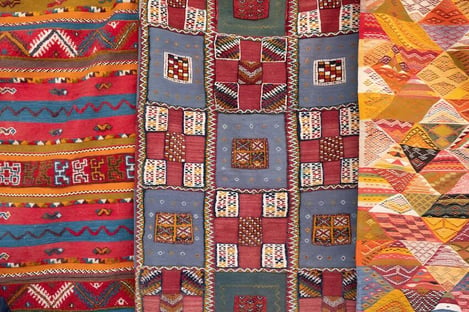 Boucharouite museum
This picturesque museum located in the heart of the Medina, in Riad Dar Dallah, a riad from the XVII century, is home to a vast collection of Boucharouite rugs. These rugs are made using an artisanal fabrication Moroccan method, where fabric is recycled and then finely cut and assembled. 
Legend says that these magnificent rugs, handmade by Berber woman, show  the life story and customs of these women, inscribed in the rugs in the form of hidden patterns and colours. For example, the colour brown represents a child and green represents paradise. 
Come unravel these secret stories for yourself and visit this museum any day but Sunday!
Dar Si Said
This is the largest museum in Marrakech and the one that exhibits the greatest number of works of art. It is situated in a lavishly decorated Moroccan palace which was built in the nineteenth century. 

In your walk through the Dar Si Said, in addition to looking at the artistic objects displayed in its various rooms, you must appreciate its unique decoration. From its beautifully decorated cedar wood doors, to the placid central garden with its abundant vegetation and the ornamental stucco.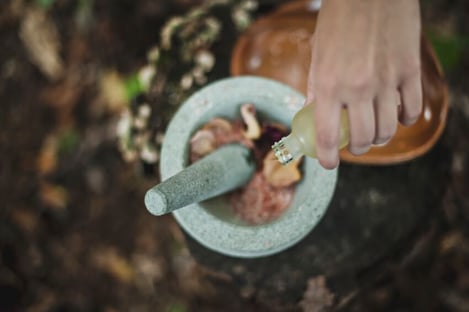 The Musée du Parfum
For those who are looking for a different activity to do with the entire family, you must visit the perfume museum, one of the most original museums in Marrakech. It is located in a beautiful riad from the XIX century and was created by Abderrazzak Benchaâbane, a native Moroccan perfumer who wanted to honour the art and history of perfume making.
To begin, you will learn about the different stages of processing raw materials for the composition of perfumes, cosmetics, and natural body products. Afterwards, you will discover a collection of plants and their use in the art of the Hammam.

Why not bring some Moroccan smells back home? Finish your visit at the perfume bar where experts will create a tailor-made perfume for you, while your children participate in the children's workshop, which will introduce them to the art of perfumery.
 
Maison de la photographie
If you are into photography you cannot miss this gallery, which contains a photographic exhibition that aims to show the extraordinary diversity of Morocco through photographs, from the beginnings of photography until the modern period: 1879-1960.
More than 10000 photographs allows visitors to see Marrakech's old archaeological sites, its untainted natural landscape, and portraits of locals throughout the ages. 
If you've dragged a non-photographer along with you, treat them to a mint tea and spectacular views of the Atlas mountains from the museum's roof terrace. Profit from the stunning views and take a photo!
In a nutshell, Marrakech is a country with a wide cultural offer and plenty of interesting places to visit and discover. Consequently, no matter what your preferences are, you will find a museum that suits your tastes. 
Widen your horizons and visit the best museums of Marrakech!
>>> Discover all of our villas in Marrakech