Where to Find the Top Restaurants in Marrakech
Written on : 28 June 2023
By : Samantha Franco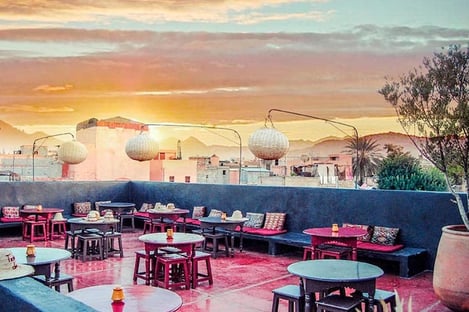 The cuisine of Morocco is famed the world over for its tantalising combination of tangy fruit, earthy, fragrant spices and succulent meat and vegetables, often prepared together in a tagine and accompanied by ras-el-hanout- or saffron-infused couscous. This heady mixture of influences from traditional Berber, Andalusian, Mediterranean and Arabic countries can be found throughout the top class restaurants and cafes that pepper the famous Red City of Marrakech.
We take a look at some of our favourite restaurants for you to try on your next trip to Marrakech.
Where is the best place for a spot of lunch in the Medina?
Nomad - unique cuisine and a selection of exquisite teas
Located next to the Place des Epices, Nomad has made a name for itself with its unique cuisine, distinctive, modern design and stunning views over the rooftops of the souks.
Try a small lentil salad with beetroot and Essaouira goat's cheese, a vegetarian pastilla or an ice cream with olive oil and orange zest. Please note that there is no alcohol in this restaurant, however a wide selection of refreshing teas and fresh juices are on offer to soften the blow. For lunch or dinner under the stars, Nomad has set itself apart as one of the best restaurants in Marrakech.
Address: 1 Derb Aarjane, Medina of Marrakech
Telephone number: +212 5 24 38 16 09
Reservation recommended

La Terrasse des Epices - an elegant rooftop meets a diverse menu
In the heart of the medina, find this open-air rooftop restaurant. It is the perfect place to enjoy a peaceful and relaxing lunch while enjoying a panoramic view of the Atlas Mountains and the Koutoubia minaret. In the evening, experience a timeless dinner under the stars of Marrakech. The menu is a mix of Moroccan and international options, where you can enjoy some of Morocco's most famous specialities.
Address: 15, souk cherifia, sidi abdelaziz, Marrakech Medina
Telephone number: +212 5 24 37 59 04
Reservation recommended

Le Jardin - wonderful food in a luxuriant setting
Le Jardin is a pretty 1960s riad and an oasis of freshness in a leafy, relaxing setting in the north of the Medina. Here you can sample delicious Moroccan and European cuisine where tradition and modernity are blended to mouthwatering effect. It is one of the best places to take a break after a hectic day walking around the Medina, especially at their downstairs tables where diners can cool off in the shade of the overhanging greenery.
Address: 32 Souk Sidi Abdelaziz, Marrakech Medina (near Dar Bacha)
Phone number: +212 5 24 37 82 95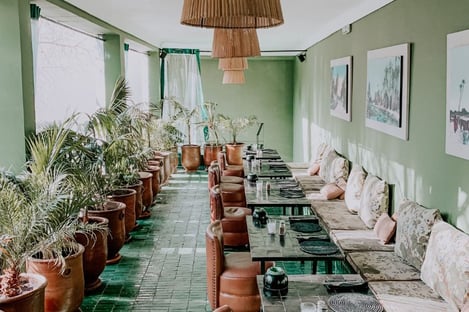 L'Mida - one of the best views in the Medina
Located in the heart of the souks, just a few steps from the Place des Épices, the roof terrace of L'Mida offers one of the most beautiful views of the Medina, complemented by the majestic Atlas Mountains floating in the background. L'Mida was created by Parisians Omar and Simo and serves up a fine selection of Moroccan dishes made with fresh products. Don't leave without trying their gluten-free almond cake and the Marhba Mocktail.
Address: 78 Bis Derb Nkhel Rahba Kdima, Medina
Phone number: (+212) 06 73 82 31 85

La Famille - a mouthwatering vegetarian menu
If you find yourself shopping amongst the artisans' stalls in the souks, stop off for lunch and spend a moment in the splendid shade of lemon trees at the excellent La Famille restaurant. On offer you'll find a tasty vegetarian menu, which changes every day depending on the fresh produce available from the market. The food is artfully presented and the ambience laid back and welcoming.
If you've enjoyed the food then we advise you to visit their boutique corner with its selection of jewellery and decorative accessories in wood, brass or wicker. Their cookbook is a must-have!
Address: 42 Riad Zitoun Jdid, Marrakech Medina
Phone number: +212 (0)5 24 38 52 95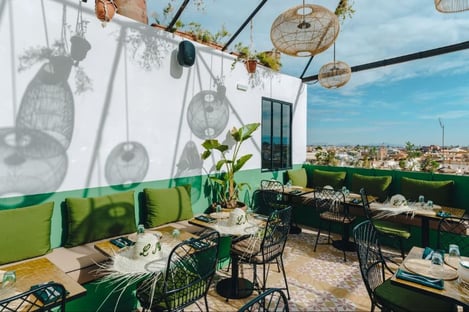 Where is the best place to go for a traditional Moroccan meal?
Dar Yacout - traditional cuisine in a classy setting
The Yacout is a Marrakech landmark and one of the best restaurants in Marrakech. The setting is enchanting, in an unusual riad with authentic architecture and stylish décor. The riad has private lounges and the terrace offers breathtaking panoramic views of the Medina and the Koutoubia Mosque.
Excellent traditional Moroccan dishes, expertly prepared by top-class chefs. Do not miss the aperitif on the terrace - the perfect spot for soaking up the atmosphere of the Medina in the evening.
Address: Dar Yacout 79, derb Sidi Ahmed Soussi, Bab Doukkala - Marrakech
Telephone number: +212 (0)5 24 38 29 29 / +212 (0)5 24 38 29 00
Reservation recommended

Dar Zellij - historic riad converted to a top restaurant
Set in a beautiful 17th-century riad, Dar Zellij offers mouthwatering Moroccan cuisine served in a refined dining room. The restaurant kitchen invites you to a timeless dinner with a wide choice on the menu, from chicken pastilla to fish tajines and couscous.
Address: 1, Kaa sour, Marrakech Medina
Telephone: +212 5 24 38 26 27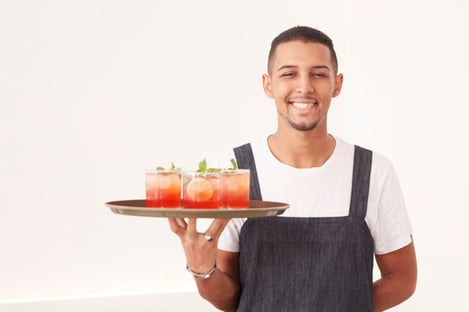 The Best Restaurants in Guéliz and Hivernage, Marrakech
+61 - an international outlier serving Australian cuisine
Something of a break from the norm... Located in the heart of Guéliz, this contemporary restaurant offers tasty Australian-inspired cuisine, the owner's country of origin. A relaxed atmosphere, minimalist, pleasant decoration and generous cuisine make this restaurant unique. An interesting alternative to local Moroccan dishes and one of our tips for the best restaurants in Marrakech.
Be sure to treat yourself to one of the desserts! Special mention for the "lamington sponge chocolate coconut".
Address: 96 Rue Mohammed el Beqal, Gueliz, Marrakech
Phone number: +212 524 20 70 20

Al Fassia Guéliz - the best shoulder of lamb confit in Marrakech
Known for its intimacy and the quality and refinement of its cuisine, Al Fassia serves traditional Moroccan meals. Managed by women, Al Fassia has long been renowned for its traditional dishes such as the lamb and beef tagines with plums, tender brochettes with saffron rice, couscous with caramelised onions and, of course, the unmissable shoulder of lamb confit, the best in Marrakech!
Address: 55 Bd Mohamed Zerktouni, Gueliz
Telephone number: +212 524 43 79 73
Reservation recommended

Comptoir Darna - modern cuisine with a lively atmosphere
Perfect for a lively dinner of modern cuisine in a festive atmosphere. We especially recommend continuing the evening on the first floor where the restaurant has a club and the dancing goes on into the night. A great spot for a special occasion.
Address: Avenue Echouhada Hivernage, Hivernage
Phone number: +212 (0) 524 437 702/10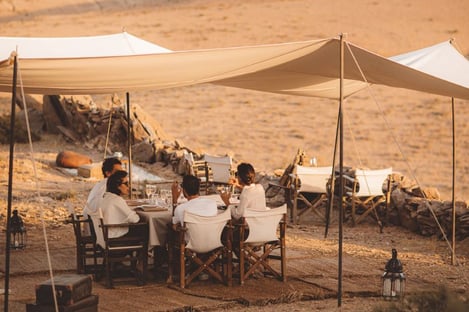 Where to go for lunch outside of Marrakech?
Scarabeo Camp - an exclusive desert camp
Scarabeo Camp is an exclusive camp located in the Agafay Desert, 40 minutes from Marrakech, on a beautiful arid plain surrounded by dark rocks. Enjoy lunch in a lovely tent in an "out of Africa" atmosphere. This is an extremely sought-after location, so reservations need to be made well in advance.
Phone number: +212 (0)6 62 80 08 74

Beldi Country Club - make a day of it in a splendid location
Amazing place with a touch of the boho-chic, located only 20 minutes from Marrakech. Visitors can relax and enjoy lunch or mint tea in the shade of the olive trees, by Beldi's long swimming pool or in front of the new greenhouse in the orange grove. For those looking to make a day of it, you can stay and relax at the swimming pool, enjoy the charming spa and visit the various craft shops (Le Verre Beldi, Corinne Bensimon, Atelier Poterie, Chabi Chic).
Address: Km 6, Route de Barrage, "Cherifia" Marrakech
Telephone number: + 212 5 24 38 39 50 / + 212 6 79 89 26 07
Reservation recommended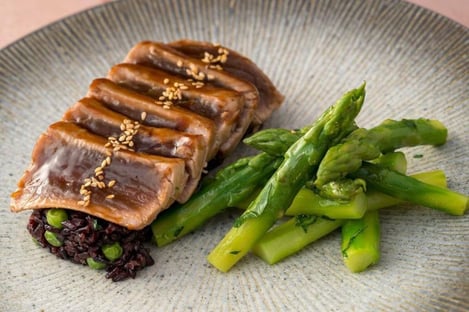 Kasbah Beldi - for a chic picnic in the mountains
A magnificent site of 15 hectares at the foot of the Atlas Mountains, 50 minutes from Marrakech. Spend the day in its wonderful open-air spaces, whether in the shade of the olive trees or enjoying the swimming pools (heated in winter), it's a splendidly bucolic setting. We recommend opting for the "Picnic chic", served under a hundred-year-old pistachio tree or on the terraces with some truly delicious authentic cuisine.
Address: Lake Lalla Takerkoust, Talet Village, Marrakech
Telephone number: + 212 5 24 38 39 50
Reservation recommended 

Bô Zin - lunch, dinner, cocktails and music on the road to Ourika
On the road to the Ourika Valley, there is Bô Zin, a restaurant with a trendy, elegant setting. There are several distinct ambiences created in the restaurant. The interior room with its fireplace offers a calming, warm atmosphere; the pergola, under fans, and misters are ideal for the mid-season, whereas the bamboo garden is fantastic during the summer.
The atmosphere in the bar is festive, the music is sharp, and the mojitos are delicious. Everything brought together in one place for a great evening!
Address: Route de l'Ourika 3.5 KMs
Phone number: +212 (0) 524 388 012
Reservation recommended