Morocco never stops enticing us. Whether for its hearty people, its breathtaking landscapes or its rich culture, it is a destination whose discoveries are endless. At Villanovo, we have now decided to set out to discover a real treasure for the country: saffron. Cultivated according to tradition from generation to generation, quickly discover the secrets of the most expensive spice in the world. 
>>> All our luxury villas for a stay in Morocco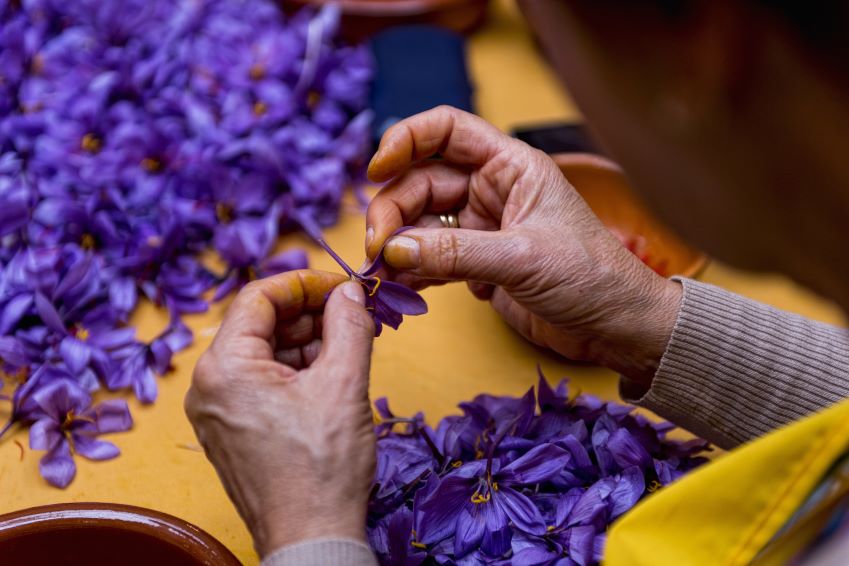 A unique know-how
It is in the heart of the small town of Taliouine, located at more than 1586 meters above sea level in the
mountainous landscape of the Atlas
that one of the best saffron is cultivated there since ever. Sprinkled with purple fields, Taliouine is located in the south of Morocco and concentrates today 90% of the Moroccan production of saffron. This culture allows in particular 1500 families of the Berber city to live. At the same time, Morocco has more than 1,800 hectares under cultivation and with a production of 6.8 tons in 2018.   
Taliouine spice is recognized worldwide for the quality of its cultivation, but also for the power of its aromas. Taliouine producers defend a saffron with a higher concentration of colouring than that of Iran, the world's leading producer, but also of
Spain
and
India
.
Saffron is a spice that is particularly difficult to grow because it is very fragile and vulnerable to climatic disturbances. Indeed, the flower requires heat in summer and a humid climate in winter. Its harvest is very delicate, because it is carried out during 3 hours maximum at dawn in October before the flower opens. For that, the flowers are delicately picked by pickers and will be put to dry before extracting the small red pistils. In order to recognize this unique know-how transmitted from father to son, several cooperatives have been created to protect the products from the harsh foreign competition, but also internal market competition. The creation of a PDO label ensures the authenticity and quality of the spice after several controls. Although saffron is used in
Moroccan gastronomy
and more particularly in
tagines
, this spice is generally kept for trade because of its high cost.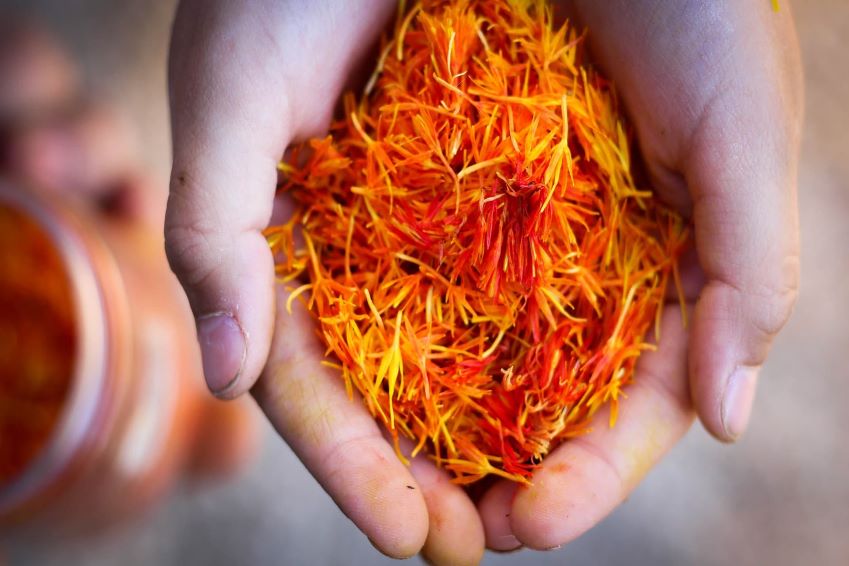 An endangered sector
Considered as the red gold of the country, saffron of controlled origin sells for about 3€ per gram in Morocco and up to 5€ in
France
. Because of its high price, a real counterfeit market has developed in recent years offering a cheaper saffron at around 1€ and necessarily ... of lower quality. Indeed, on some Moroccan markets or in the souks you will find saffron whose non-pure composition has been associated with various dyes and chemical powders. These practices are extremely valuable for the activity of small producers but also for the demanding work of cooperatives whose cut saffron escapes controls, and put the sector in danger. 
In order to better distinguish between pure and compliant saffron and that resulting from fraud, always give preference to saffron packaged and labelled with a controlled appellation of origin, and try to avoid saffron sold in bulk whose quality cannot be proven. Take advantage of your
trip to Morocco
to visit saffron fields and better understand the stakes of this traditional production!   
>>> What is Ras el Hanout?