Rooftops are all over
Morocco
, most houses use their roofs as terraces. In
Marrakech
you will find a multitude of rooftops, and necessarily the one made for you! In addition to allowing you to take a little bit of height, they offer you the opportunity to take a break not far from the hustle and bustle of the city by sipping a cool drink while contemplating a magnificent view. Here is our selection of the best rooftops in Marrakech.
>>> What to Pack for Morocco?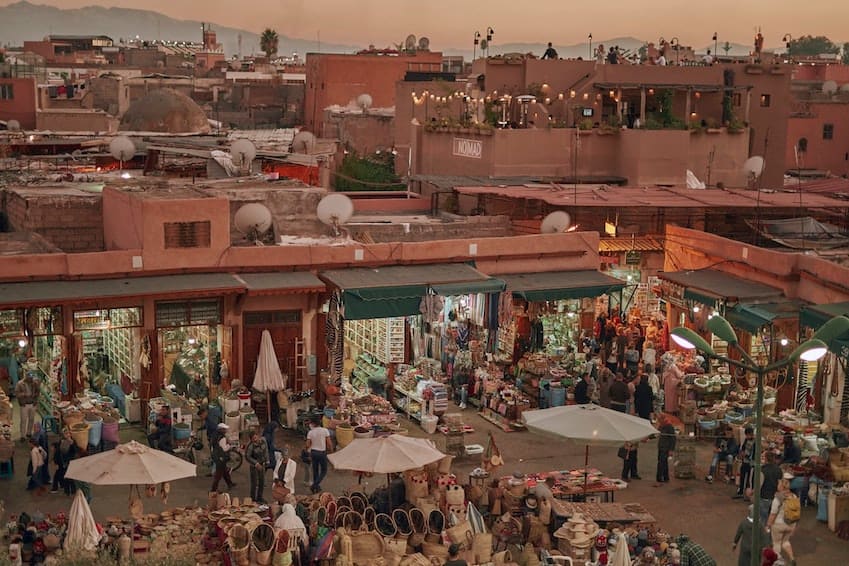 The Foundouk
This elegant restaurant is housed in an old traditional inn in the Medina, hence its name, which means hotel in Arabic. Its rooftop is dotted with candleholders and plants providing a warm and typical setting, perfect for a quiet evening with friends or a romantic dinner. You can enjoy quality Moroccan cuisine as well as local cocktails and wines while having a panoramic view of Marrakech. It is also part of the ranking of the best "Rooftop Restaurants" according to CNN in 2016.
Practical information: Open every day from 7 pm to midnight, closed on Wednesdays.
Address: 55, Souk Hal Fes Kaat Bennahid - Marrakech  
>>> Food to Try While You Are in Morocco
The Kechmara
It is a trendy restaurant/bar with a contemporary decoration, popular with a young public mixing local and international. The Kechmara wants to be innovative by offering a dynamic place and a space dedicated to street art exhibitions featuring local artists. Come and enjoy tasty international dishes as well as cocktails and refreshing drinks. As the sun sets, the music gets louder and you can wiggle your hips on the palm-lined dance floor. 
 
Practical information: Open every day from 9 am to 1 am, Sundays from 9 am to 5 pm.
Address: 3, Rue de la Liberté - Marrakech 
Le Café Clock
After its great success in Fez, the café clock has conquered Marrakech. It is an inter-cultural, dynamic and vibrant café in the heart of the Medina. You will be charmed by its colourful interior with a superb rooftop at the top allowing you to admire the city with a 360° degree view, even better at sunset. In the middle of this trendy decor, you can enjoy a wide choice of food and non-alcoholic drinks. In addition to the restaurant, the cafe regularly schedules activities highlighting Moroccan culture such as concerts, cooking and calligraphy classes. 
Practical information: Open every day from 9 am to 11 pm.
Address: Derb Chtouka - Marrakech  
>>> 4 unforgettable sunsets in Marrakech
The Sky Lounge - Pearl Marrakech
Located at the top of the Pearl Hotel Marrakech, in the chic Hivernage district, this rooftop is accessible to everyone even if you are not a guest of the hotel. You can enjoy a breathtaking view of the Atlas Mountains and the city walls while drinking an excellent cocktail. 
 
Practical information: Open every day from 10 am to 1 am.
Address: Rue du temple, Hivernage - Marrakech 
The Nomad
This trendy restaurant is a must in the centre of the Medina, just above the spice square. With its lively atmosphere and three floors, two of which are open-air, you can admire the old town from different angles. In addition to the superb view, the cuisine is also worth a visit. On the menu you will find tajines, kebabs and other dishes, all prepared from fresh local produce. 
 
Practical information: Open every day from 12h to 23h. 
Address: 1, Derb Aarjane - Marrakech
Cafe Des Espices
Located just a few steps from the Nomad restaurant, this café also offers a beautiful view of the Spice Square and the beautiful Koutoubia Mosque. Nestled in the souk's alleyways, this place offers you a quiet break from the hustle and bustle of the square and offers a variety of fruit juices and non-alcoholic cocktails. In the evenings, the atmosphere is electrifying and DJs are regularly invited to play electronic music sets. 
Practical information: Open every day from 9 am to 11 pm. 
Address: 75, Rahba Lakdima - Marrakech  
>>> Discover The Koutoubia Mosque
Café de France
This is undoubtedly one of the most typical cafés in Marrakech, located on the Jemaa El Fna square. Opened in 1912, it is still very popular with tourists and locals alike. You can only be conquered by its three terraces and its decoration with stone walls, tiled tables and lanterns as well as its view of the whole tumult of the square. Here you will find fresh non-alcoholic drinks, perfect for a well-deserved break after wandering through the nearby souks. 
 
Practical information: Open every day
Address: Place Jemaa El Fna - Marrakech
The Zwin Zwin Café
Let yourself be seduced by this restaurant and its Majorelle blue panoramic terrace which offers a view of the entire Medina. The atmosphere is pleasant and cosy and you can even take advantage of the Z spa for a beauty break. On the programme are massages, hammams and a dip in the swimming pool. On the food side, you will find a short but very efficient menu with revisited Moroccan dishes, mainly vegetarian and delicious fresh drinks.  
Practical information: Open every day from 8 am to 11 pm. 
Address: 10, rue El Moustachfa - Marrakech  
>>> Itinerary for 3 days in Marrakech