A true jewel of the city of Marrakech and the Medina district, the Koutoubia Mosque represents Morocco's religious, historical and cultural heritage. Located 200m from Jemaa el-Fna Square and in the heart of the city's historic centre, it is a must if you visit the city.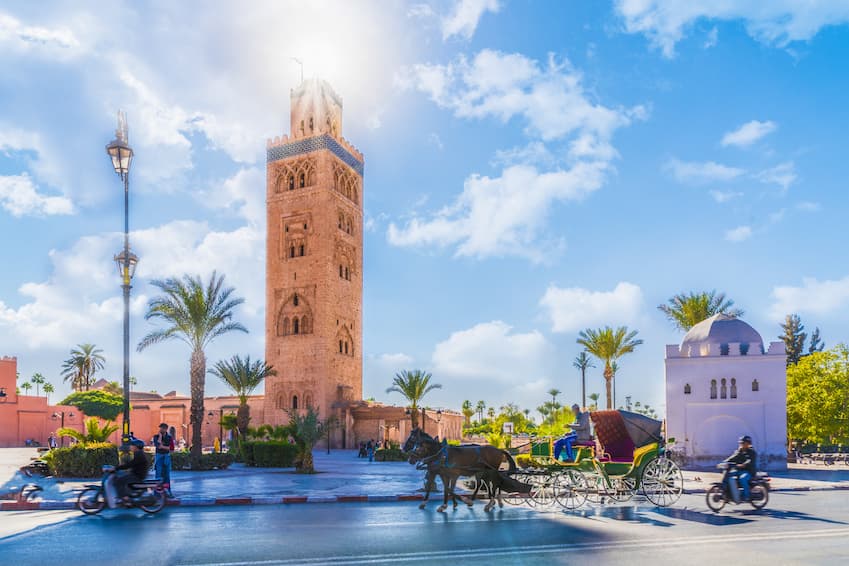 Some background information...
The mosque was built in the 12th century, between 1120 and 1196 during the reign of the Almoravid Berber dynasty and under the leadership of the Caliph Yaqub al-Mansur. 

In fact, two mosques were built during this period. The first was built between 1147 and 1157 but its construction was abandoned halfway when it was realized that the mihrab (i.e. the niche indicating the direction of Mecca) was not perfectly oriented towards Mecca.

The second mosque is the one we know today, and it is located next to the structure of the first one. In truth, its mihrab is even further away from the direction of Mecca than the first mosque, but the mosque experienced many difficulties during its construction, due to the change of reign.

The mosque is nicknamed "mosque of booksellers" because it is located next to the former souk of booksellers. Its name is derived from the Arabic Kitab, which means book.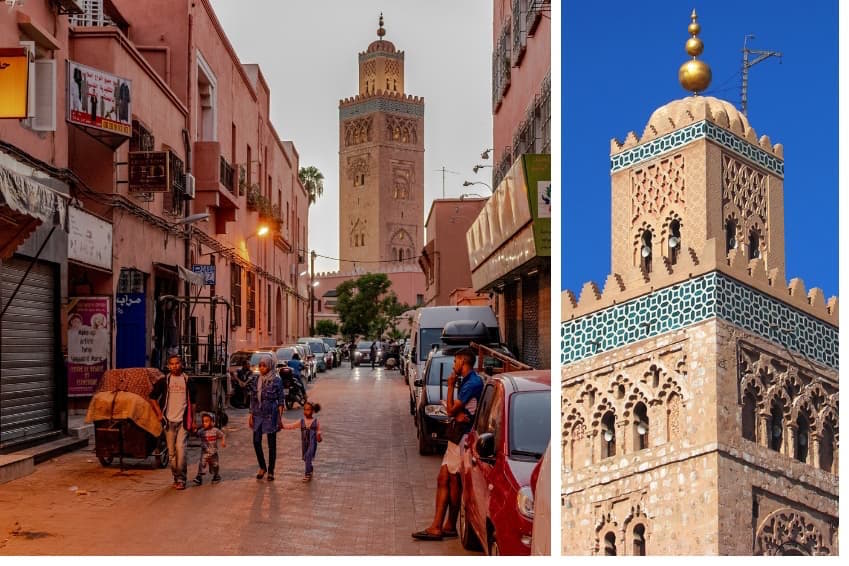 The architecture
Outside, the building is built in brick and sandstone and the towers are decorated with turquoise blue earthenware motifs. A private entrance is reserved for the imam and another is reserved for the prince or king. Inside, there are more than 100 columns and 17 naves. The prayer area is in the shape of a T and is one of the largest halls in the West since it can accommodate more than 20,000. 

The minaret is probably the most impressive part of the mosque: 77 meters high with the arrow, it is supposed to be visible from 29 kilometres away! An official ordinance even prohibits the construction of buildings taller than palm trees in the city to promote it. This is the place from which the muezzin calls for prayer, 5 times a day.

Several legends trace the origin of the golden balls that make up the arrow at the top of the minaret. According to one of them, the arrow was originally made of 3 balls of pure gold, from the jewels of the Caliph's wife who committed the sacrilege of breaking her fast for 3 hours during Ramadan.

For others, these balls represent the three elements (water, earth and fire) or the three most important mosques: the al-Harâm Mosque in Mecca, the Prophet's Mosque in Madinah and the al-Aqsa Mosque in Jerusalem.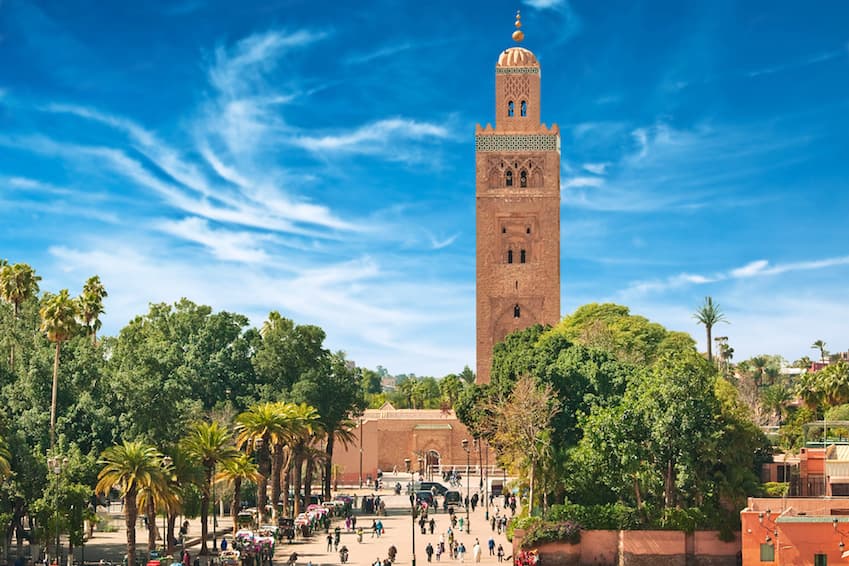 Visit the Koutoubia Mosque
As with all active Muslim places of worship, you won't be able to visit the Koutoubia Mosque if you are not a Muslim. However, you can still visit the mosque's gardens, which are very pleasant, especially in spring, since the smell of orange blossoms smells of the place.

>>> Discover all our accommodation (villas, riads) in the Medina, a stone's throw from the Koutoubia mosque