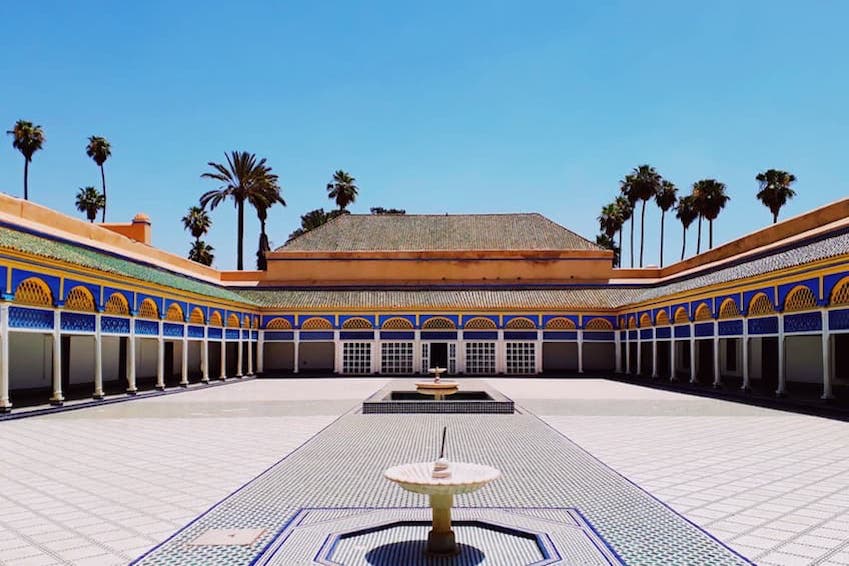 Marrakech is one of the most beloved and attractive cities in Morocco. Famous for its beautiful souks, magnificent palaces, alluringly tasty tagines, idyllic gardens, and fascinating architecture. You can experience many unique activities that will make a lifetime of fond memories. 

So, read on and find out some unique things you can bookmark for your Marrakech travel itinerary. 

>>> Discover our most beautiful luxury villas in Marrakech for a unique Oriental holiday

>>> These are the best vegetarian restaurants in Marrakech
1) Visit the Jardin Majorelle
Get lost in French artist Jacques Majorelle's gorgeous botanical garden. Enveloped in an absolute Edenic atmosphere with bright-blue tiled walls, a plethora of exotic plants and towering palm trees, this place will instantly capture your imagination. 
This marvellous attraction originated from Jacque Majorelle's love and devotion to Marrakech. Thus, he bought an estate and designed a sumptuous art-deco villa in a Le Corbusier style, in which he resided and dedicated his time to paint his canvases. Given his love for botany, he brought plants from five continents to his garden ranging from cactuses, palm trees, bougainvillaeas, banana trees, coconut trees, among other exotic plants. His dwelling became an explosion of colour, sensations, and vibrance.  The artist opened his garden to visitors in 1947 and has drawn tourists from all over the world. 
2) Experience the hustle and bustle of Jemaa el-Fna
Jemaa el-Fna is the most famous square in all Morocco, the core artery of Marrakech, and the Medina's centre. This square's sheer dimensions will astound you, as you wander around its network of winding streets and passageways while taking in the aromas, music, colours, and textures encompassing you. You will feel the history, traditions, and culture immediately once you get lost through its souks. You can then explore its quaint shops and browse the local spices, and even go on a gastronomic tour, to try specialities such as tagines, local olives, traditional loaves of bread, and so on. 
During your stay in Marrakech, you will find that all routes will lead you to Jemaa El Fna Square, as it's the heart of all life here. You will see it extends from the great spiritual centre of the city, the great tower or minaret, to the Koutoubia Mosque-- which are all worth visiting. This square also holds many markets with many sculptures, gadgets, Moroccan food on display. All in all, one can find a bit of everything here. However, it's also one of the busiest areas. So, take your time to appreciate a unique scene of the vibrant Marrakechian city life.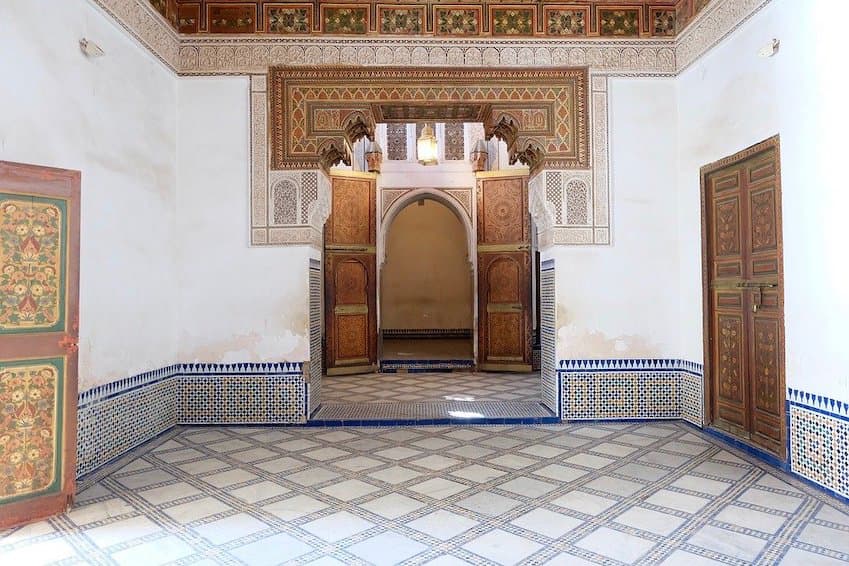 3) Explore the ruins of the Badi Palace
Located only 300 metres from the Saadian tombs and 400 metres from the Bahia Palace in southern Marrakech, the ruins of the Badi Palace are a unique attraction that's a must-visit during your stay here. Today, it is used as a stage for the Moroccan Folklore Festival and was built at the end of the 16th century by order of the Sultan Ahmed al-Mansour. At the height of its history, this palace was a true marvel and became a symbol of Al-Mansour's ruling power. It was erected to pay homage to the Portugueses' defeat at The Battle of the Three Kings and was used as a platform for the sultan's ceremonies.
It housed more than 300 rooms decorated with the most exquisite materials such as Sudanese gold leaf, stucco, mosaics, Carraca marble, Irish granite and Chinese porcelain.  Although the palace is in ruins now, it will still enchant you as you admire its notable vestiges and hark back to its beautiful and splendorous past. 
4) Discover Ben Yousseff Madrasa
One of the must-visits on your trip to Marrakech is the Ben Youssef Madrasa. You'll find it right on the northern part of the Medina's souks, next to a mosque and the Marrakech Museum. Madrasas or Medresas are institutions dedicated to religious education, which have been spreading throughout the Maghreb since the 13th century. As for Ben Youssef Madrasa, this building dates back to the 16th century. This is arguably one of the most interesting attractions in Marrakech to see distinctive and beautiful Moroccan architecture. 


>>> Our most beautiful villas with heated swimming pools in Marrakech
5) Marvel at Bahia's Palace marvellous Moroccan architecture
As opposed to Badi Palace, Bahia's Palace is a well-preserved one as it only dates back to the 19th century. You can appreciate its beautiful tilings, details, mosaics, carvings, paintings as well as its luminous and spacious courtyards. It took more than a decade to build this palace, and although it had been designed to be built by the Grand Vizier, the construction finished after his death and was inaugurated by Abu Bou Ahmed, who was once a slave and later became a vizier and brought a unique style to this sumptuous palace.


>>> Get lost in the beautiful souks of Marrakech
>>> Discover luxury villas in Marrakech