A magical courtyard, Jemaa el-Fna Square is very popular with Moroccans and tourists due to its street shows and artists of all kinds. In the past, called Place Grève, it was used to execute criminals whose heads were then exposed on a studded wall, a custom that had been popularized by the Alawids.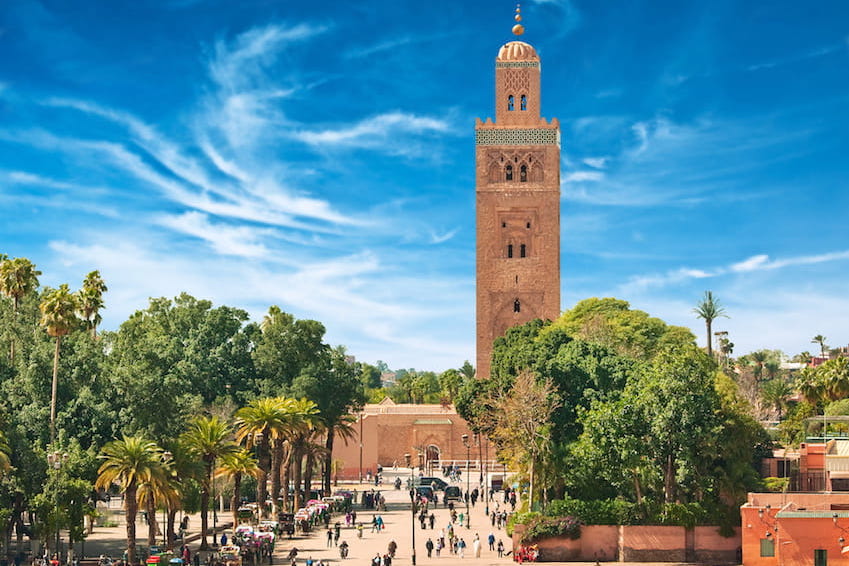 The vibrant heart of Marrakech
Today, it is one of the main cultural spaces of
Marrakech
and offers an exceptional concentration of Moroccan traditions. Jemaa el-Fna is Located at the entrance to the Medina near the souks, it is the starting point for most excursions: the Médersa Ben Youssef, the
Bahia Palace
or the Saadian Tombs, the Koutoubia Mosque. Known for its vibrant life, its tourist centre features snake charmers, fortune tellers, music groups, hoop games, monkey trainers and women ready to paint your hands with henna. In addition, it is pleasant to have a mint tea at one of the many coffee terraces around the square, such as Café de France with its three large terraces, or to enjoy a meal in the ten or so restaurants. You will also find orange and grapefruit juice stalls as well as seed and fruit carts that sell dates, figs, almonds and nuts.     
At dusk, once night falls, the square gradually fills up, especially in Bab Agnaou Street, and gives life to food stands lit by gas lanterns where you can enjoy couscous or tajines and other
Moroccan cuisine
. 
This cultural treasure, classified as an intangible cultural heritage of humanity by UNESCO since 2001, is a fascinating place with a warm atmosphere worthy of a medieval square. And from the rooftops, it offers an incredible view of the whole city. 
=> All our riads in the medina of Marrakech