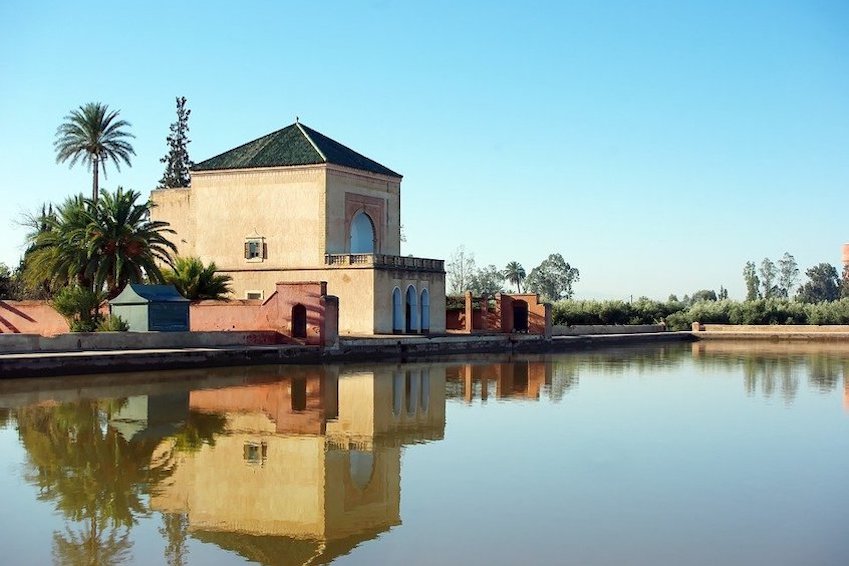 Marrakech is home to some of the most magnificent palaces in Morocco. Each of them boasts beautiful architecture and stories from the past. If you happen to be planning a trip here, you mustn't miss out on visiting these sumptuous treasures, where not only will you get a taste of what it was like to live like a royal in Morocco, but also will be able to snap some Instagrammable pictures. Planning these visits with a tour guide will also level up the experience by learning the history behind these impressive palaces. 

Read on and find out some of these impressive buildings in Marrakech with us.

>>> Discover luxury villas in Marrakech
>>> Moroccan culture and traditions
1) El Badi Palace
The Badi Palace was once one of the most luxuriously jaw-dropping and largest palaces in the world. However, much has changed since then. Now, one can only imagine the glory of this building, as solely the ruins remain-- leaving vestiges of its sumptuous past. 

Once the residence of the Sultan Ahmed al-Mansour, this architectonic masterpiece was his legacy to the city. He built it in 1578 to honour his victory in the Battle of the Three Kings in Alcazarquivir-- and boasted a surface area of more than 130x110 square metres, where a beautiful courtyard dominated the centre of the palace with a massive pond. It featured more than 300 rooms and various official receptions for Ahmed's meetings with other prominent social class members. Unsurprisingly, he took inspiration to build Badi Palace from the beautiful Alhambra of Granada-- that's one of Spain's most beautiful Muslim palaces.  

At the end of the 17th-century, the palace got ransacked by Sultan Mulay and took valuable objects and furnishings and stripped all of its decoration. 

However, visitors can view the ruined enclosure, dominated by red bricks and surrounded by greenery and beautiful orange trees, including its courtyards and gardens.
2) Dar Si Said Palace & Museum of Moroccan Arts
To fully take in the beauty of these palaces, one must admire the distinctively finesse details that decorate them. Dar si Said Palace is a case in point as it houses the Art Museum of Morocco since 1932. Here, you'll be able to appreciate fine works of art, unique objects, magnificent architecture, beautiful rooms, as well as lush vegetation in its picturesque gardens. Located in the southern part of the Medina, one can find it near Bahia Palace in one of its narrow streets. The palace was built in the 19th-century by the brother of the vizier Ahmed Ben Moussa-- who also built the Bahia Palace.
Given its good location, after visiting the museum, one can wander around the area, to find no shortage of cultural sites, restaurants and entertainment.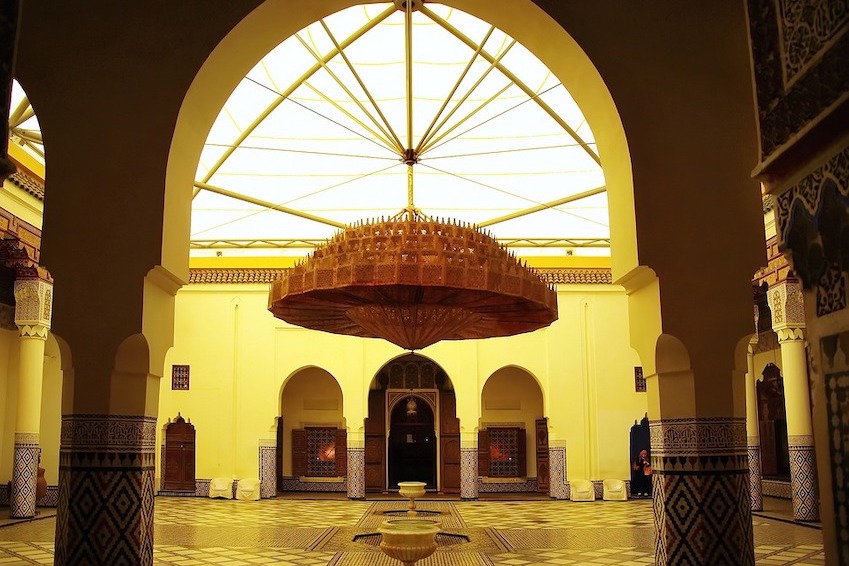 3) Ben Youssef Medersa
Ben Youssef Medersa dates back to the 16th-century and was designed by Sultan Abdallah to pay homage to one of Marrakech's patron saints. This building became one of the most important Islamic schools in the world-- known as madrasa--and is arguably one of the most interesting sites to visit in Marrakech, architecture-wise. One can find a large central porticoed patio with a beautiful fishpond designed in multicoloured tiles and many fine details in every nook and cranny. The central instructions of this madrasa were the Koran teachings, and it's also known as the largest Koranic school in the world-- with around 900 students from Morocco and other Muslim countries. 
4) Bahia Palace
Known as one of the most visited and famous historical landmarks in Morocco, The Bahia Palace is a must-visit during your time in Marrakech. Drawing over 600,000 visitors per year, one must wonder what makes this palace so attractive. It was built in the 19th-century by Ahmed Moussa, the vizier of the great sultan ben Abderahmena, who also became ruler of Morocco between 1894-1900. According to sources, it is said that Ahmed was a black slave who managed to rise to the top of the social scale and achieved his position as a vizier through corrupt means. On the other hand, many other historians deny this and attribute his prosperity due to an ancestry of good lineage. Today, his descendants continue to play a key role in Moroccan politics. He was described as a very cruel ruler and government a quasi-dictatorial regime. When he died in 1900, the palace was ransacked, and his family had to exile Marrakech. 

It seems that Ahmed enjoyed quite a female company, as over 300 women dwelled in the palace- including wives, maids, and concubines. The palace was constantly adding new living quarters as Ahmed brought in new concubines and thus the number of children kept increasing-- giving the house a haphazard layout. The palace features 160 richly decorated rooms, in addition to a mosque, a Koranic school, a harem, a bathhouse, stables, gardens, numerous courtyards, and orchards. Its most majestic characteristic is the extensive courtyard one can find at the entrance, which was used for official celebrations and has a wealth of fine architectural details to admire.

>>> Discover luxury villas in Marrakech
>>> Must-see visits in Morocco