Marrakech is a perfect destination for you and your partner to enjoy a romantic gateway. Whether it is for a honeymoon or just a holiday for two, come and discover the best things to do and see in this charming city. 
From camelback riding through the desert to flying into the air in a hot air balloon, it has a wide offer of unique activities.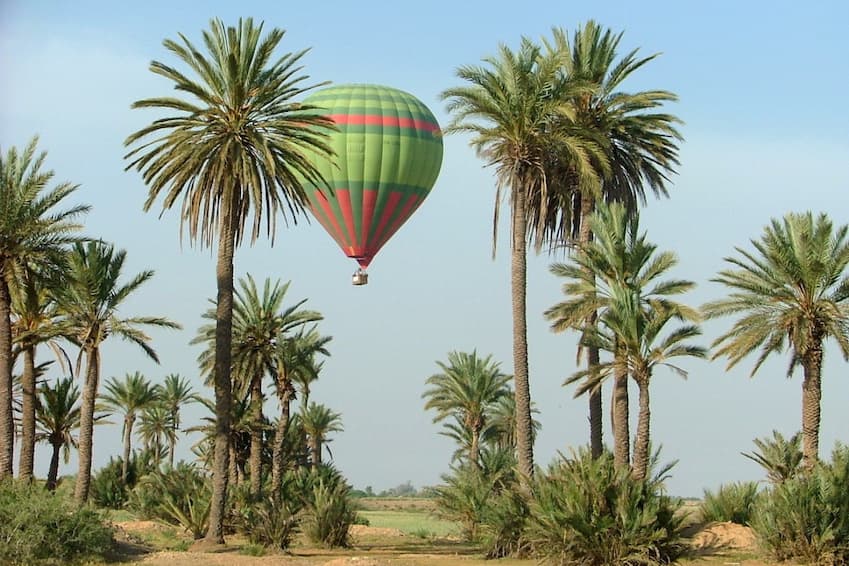 Discover the city in a unique way
Whether you prefer to take a ride on a horse-drawn carriage or you would rather fly across Marrakech's skies on a hot air balloon, there are many romantic ways in which you can explore the ochre city with your partner.
When visiting Marrakech, taking a ride on a horse carriage is very popular among couples because it allows them to immerse themselves in the culture while visiting the city side by side, without getting tired. Another option for adventurous couples is to explore the city from the clouds in a hot air balloon. An unforgettable experience that will allow you to admire the city's rooftops and alleys from high up. 
Savour a romantic dinner under the starry sky
Marrakech has little light pollution, making it an excellent city from where to gaze at the stars. 
Surprise your partner with a romantic dinner at Dar Zellij, a charming restaurant with a beautiful patio and terrace, from where you will be able to marvel at the night sky.
Enjoy an intimate evening with your partner while savouring delicious, traditional Marrakechian food, surrounded by refined Oriental decoration. 
>>> Our selection of the best restaurants in Marrakech
Take a break
You must not leave Marrakech without having enjoyed a spa with your partner, an excellent way of discovering together Moroccan beauty rituals.
After spending all day strolling through the narrow streets of Marrakech and discovering the city, there is nothing better than relaxing your body and mind in the skilled hands of a masseuse or in a hammam.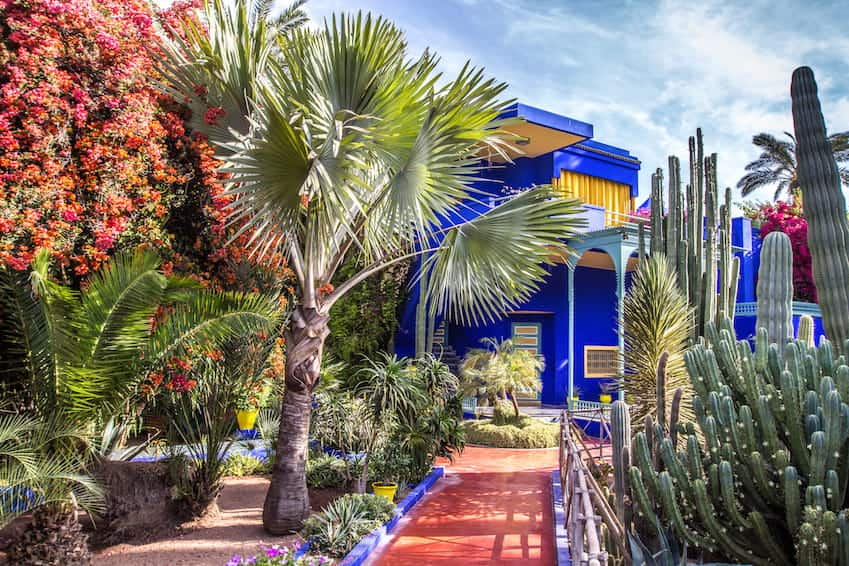 Take a walk across Marrakech's gardens
If you are looking for peace and tranquillity and want to escape the buzz of the city, you must take a walk across Marrakech's gardens, the ideal romantic plan!
At first stroll through the Majorelle Gardens, where you will encounter plants from all over the world and will appreciate the contrast of their exotic colours with the cobalt blue walls of the buildings. This work of art shows Jacques Majorelle's love for Morocco.
Another stunning garden is the Menara Garden, one of the oldest in the area. We advise you to go a little before sunset and rest with your partner at a bench, while enjoying the gentle breeze.
Finally, you must visit Le Jardin Secret, a beautiful garden boasting lush flora and Islamic towers. A unique location where you will feel the essence and character of the Bohemian Marrakech.
Contemplate the Ouzoud Waterfalls
The Ouzoud waterfalls, with a 110-metre drop and located in the Middle Atlas Mountains, in magnificent surroundings, are a must-visit on your romantic getaway. 
They maintain a constant flow all-year-round, so you can also visit them in the summer.  Moreover, you can explore with your partner the nearby villages and get lost in their beautiful streets. 
We advise you to stop for lunch at the restaurants in the area and view the waterfalls while enjoying a meal at the terrace.
Explore the Sahara Desert on a camel
One of the most popular ways of exploring the vast Sahara Desert is by camel, an animal widely used as transportation in Morocco. 
Looking forward to an adventure with your partner? Ride on a camel and go on an excursion across the desert! This exciting experience will enable you to marvel at miles of desert, as far as the eye can reach.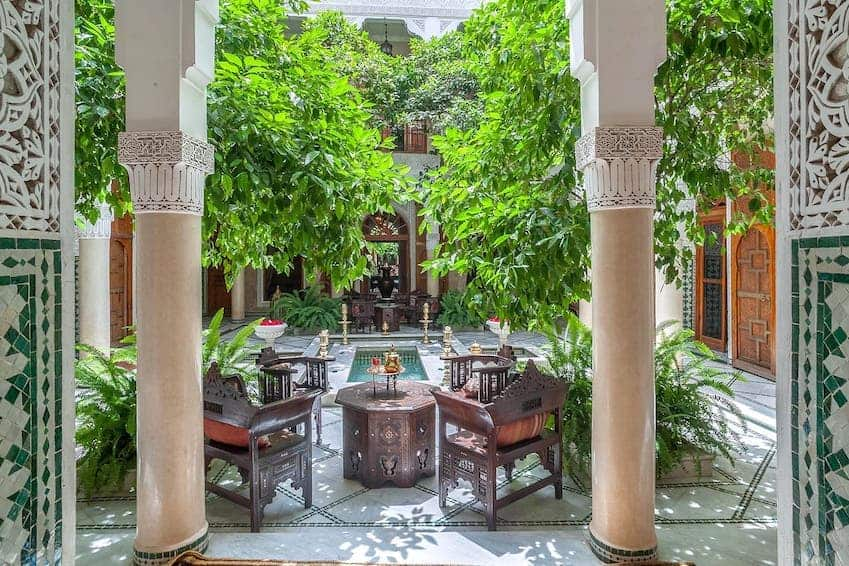 Stay in a traditional riad
Immerse yourself in the local culture by staying at a riad, a traditional Moroccan house designed to resemble an Oriental palace. Decorated with classic mosaics and with majestic rooms, these intimate and luxurious property will allow couples to experience the palace life. 
Built around an interior patio or garden to which all the rooms lead, the centre of the riad is the perfect spot for you and your significant other to cool down on hot summer days. 
>>> All our riads in Marrakech
In a nutshell, Marrakech is a romantic destination with plenty of activities to do and wonderful places to visit with your significant other. Want to escape routine or celebrate something special with your partner? Come to the ochre city!